How to Have Truly Luscious Lips

To have truly luscious lips throughout the entire day it is essential to use a lip balm or some other kind of lip moisturizer. This is because the lips do not contain any oil or sweat glands and dry out continuously, licking the lips is usually how we keep them moisturized but this can also cause them to dry out even further if the air is quickly drying the moisture off.

For healthy, plump lips use a lip balm continuously throughout the day. This will not only keep them moisturized but also protect them from the sun and winds and dry air.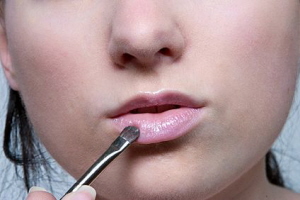 Choose a balm that contains the natural ingredients that will nourish and heal dry lips and not just make them shiny! For instance Jojoba Oil, this is light, non-greasy and absorbs fast into skin leaving no greasy feeling.

Jojoba oil has good moisturizing and nourishing properties as it is rich in vitamin E, which heals and nurtures. Also Rose Hip Oil, this oil is used to regenerate the skin and reduce the signs of premature aging, thus fine lines and dryness are reduced. Rose hip oil is rich in omega-3 and omega-6 fatty acids, is high in gamma linoliec acid (GLA) and vitamin C. Rose hip oil is often used in products made for stretch marks, burns, scars and for mature dry skin which makes it ideal for the lips!
The king of all lip moisturizing ingredients is Shea Butter. This wonderful natural moisturizing cream is an occlusive which prevents further lip dryness by locking in the natural moisture it contains and by also nourishing the lips with essential fatty acids.
Shea Butter not only moisturizes the lips it has the ability to restore skin cells' elasticity. When used on the lips, they are not only hydrated, but they can also slowly regain their natural elasticity, making them healthier and luscious looking. Shea Butter moisturizes and heals together making it is a wonderful ingredient in lip balms for revitalizing the skin on your lips.
L'Occitane Lip Balms contain all of the above ingredients and more to nurture and nourish the lips throughout the entire day.


Click on one of the scrolling items to go to that page for more information.


Return to Natural Makeup

Return from Luscious Lips to Open-Mind-Publishing