Open Mind ,Tips on Food Preparation for Healthy Eaters

Open Mind Tips on Food Preparation
Use small amounts of fat and fatty foods. There are lots of ways to use less fat. For example, when you saute or stir-fry, use only 1/2 teaspoon of fat per serving. When you use margarine, mayonnaise, or salad dressing, use half as much as usual. And, decrease portion sizes of other high fat foods--rich desserts, untrimmed and fatty types of meat, poultry with skin, and fried foods, especially breaded foods.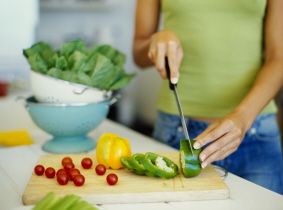 Use less saturated fat. While reducing your total fat intake, substitute unsaturated fat and oils for saturated fat in food preparation. For example, instead of butter, use margarine or vegetable oil.

One teaspoon of butter can be replaced with equal portions (or less) of margarine or 3/4 teaspoon of vegetable oil in many recipes without affecting the quality. Saturated fat may be reduced even more if you want to experiment with recipes. Poultry without skin and fish are good choices because they are often lower in fat and saturated fat than many meats.
Want to know more? Then take this opportunity to download our Free e-book " A Consumers Guide to Fats". All You Need to Know about FAT plus 15 Exciting Low Fat Recipes.Just complete the form below.
Use low-fat alternatives. Substitute 1 percent, skim, or reconstituted nonfat dry milk for whole milk. Use low-fat yogurt, buttermilk, or evaporated skim milk in place of cream or sour cream.Open Mind Tips on Food Preparation recommends you try reduced-calorie mayonnaise and salad dressing in place of regular varieties.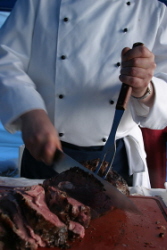 Choose lean meat. When you buy meat, choose lean cuts such as beef round, pork tenderloin, and loin lamb chops. Be sure to trim all visible fat from meat and poultry and remove poultry skin.
Use low-fat cooking methods. Bake, steam, broil, microwave, or boil foods rafter than frying. Skim fat from soups and gravies.
Increase fibre. Choose whole grain breads and cereals. Substitute whole grain flour for white flour. Eat vegetables and fruits more often and have generous servings. Whenever possible, eat the edible fiber-rich skin as well as the rest of the vegetable or fruit.
Use herbs, spices, and other flavorings. For a different way to add flavor to meals, try lemon juice, basil, chives, allspice, onion, and garlic in place of fats and sodium. Try new recipes that use less fat or sodium-containing ingredients, and adjust favorite recipes to reduce fat and sodium.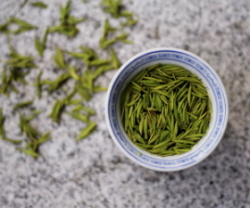 So Eat Well, Eat Healthy... And Eat For Life!

Return to Open Mind Food

Return to Open-Mind-Publishing Home Page