About Us

Welcome to our website.

This is a brief overview about us and this website.
I have discovered a law which states that the information you particularly need is on the only piece of paper you cannot find.
This is certainly true of my partner Mick who got me into this in the first place. He always has something essential or important he wants to show me but can never find it.
I'm David by the way and it was Mick's idea to start this website so any blame rests squarely on his shoulders.
This page tells you a little about us and what our website is all about.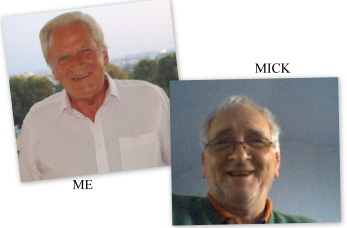 Although now both retired we have been in business one way and another all our lives, and it shows, and we were beginning to feel that 'Trust' was no longer commodity valued in business. There seemed to be too many, scams, cons or rip offs and these were seemingly becoming the acceptable norm. Not just on the internet but in all types of commerce.
So in order to try and redress the balance we have a partnership called 'Reciprocal Trust' which is in fact the holding company for our website. The idea behind Reciprocal trust is to promote trust to regain that which makes doing business something to enjoy rather than fear and regain confidence between buyer and seller and merchant and customer.
Our website Open-mind-Publishing (we were going to call it Reciprocal Trust but the Domain had already been taken) aims to provide free information on a wide variety of subjects which we hope you will find useful, open, honest and informative.
The reason for calling the website Open-Mind-Publishing is to appreciate that people have different points of view and differing ideas and we hope you, our audience share these views.

We have lots of information already available on-line which may be exactly what you need and we want to make this site something of value for everyone.

We provide a great number of articles and information on a variety of topics, health, beauty, food, hobbies and sports and this list is growing day by day so we're sure you can find something of interest.

We will continue to grow this website with new information and new articles and if Mick finds that piece of paper I'll get down to it right away.

P.S. If you have any questions, comments, or suggestions you can contact us via the form on our 'Contact Us' Page. We encourage our visitors to let us know what we can do to improve this site and provide you with more of what you want.
Thank you for visiting us.
Dave & Mick




Return from About Us to Open-Mind-Publishing Home Page