Open Mind,Eating Out Tips- Do You Want To Eat Out And Stay Healthy?

Open Mind Eating Out Tips Choose the restaurant carefully. Are there low-fat as well as high-fiber selections on the menu? Is there a salad bar? How are the meat, chicken, and fish dishes cooked? Can you have menu items broiled or baked without added fat instead of fried?

These are important things to know before you enter a restaurant--fast food or otherwise. Seafood restaurants usually offer broiled, baked, or poached fish, and you can often request butter and sauces on the side. Many steak houses offer small steaks and have salad bars.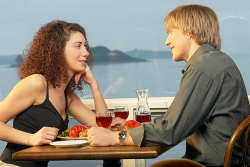 Try ethnic cuisines. Italian and Asian restaurants often feature low-fat dishes. though you must be selective and alert to portion size. Try a small serving of pasta or fish in a tomato sauce at an Italian restaurant.

Many Chinese, Japanese, and Thai dishes include plenty of steamed vegetables and a high proportion of vegetables to meat. Steamed rice, steamed noodle dishes, and vegetarian dishes are good choices too. Ask that the chef cook your food without soy sauce or salt to decrease sodium. Some Latin American restaurants feature a variety of fish and chicken dishes that are low in fat. Make sure you get what you want.
Bookmark or Share

For information on Italian Cuisine Click Here

Here are just a few Open Mind Eating Out Tips for you to make sure you're in control when you eat out. Ask how dishes are cooked. Don't hesitate to request that one food be substituted for another. Order a green salad or baked potato in place of french fries or order fruit, fruit ice, or sorbet instead of ice cream. Request sauces and salad dressings on the side and use only a small amount.

Ask that butter not be sent to the table with your rolls. If you're not very hungry, order two low-fat appetizers rather than an entire meal, split a menu item with a friend, get a doggie-bag to take half of your meal home, or order a half-size portion. When you have finished eating, have the waiter clear the dishes away so that you can avoid postmeal nibbling.
For more information on Healthy Eating Download this Complimentary Book
Click here to read the PDF in your browser, or right-click to download it.

Return from Open Mind Eating out Tips to Food

Return to Open-Mind-Publishing Home Page