10 Home-Based Business Ideas for Work at Home Moms

Work at home moms make up a significant portion of home-based business owners and freelance professionals. While there are a lot of perks that come with working at home, the appeal for mothers is often that they'll be able to spend more time with their children. Keeping that in mind, here is a list of ten home-based business or freelance job ideas that will allow for a flexible schedule that can be operated around family time.

Freelance writing – Moms at home can find numerous opportunities for freelance writers, both online and off. Because writing can generally be done at any time, it would be ideal for those moms who might only have time to work during occasions where their children are in school or napping. A good resource for moms interested in finding freelance writing clients is


Blogging – Similar to other writing fields, blogging can be done at almost any time of day. Most blog networks that hire freelancers have posting requirements on a daily, weekly, or monthly schedule, but the time of day that you post is completely adaptable to your own schedule.
eBay – Starting an eBay business is a great option for moms at home, because most products will sell on a 24-hour basis online without too much supervision. To make an eBay business even more ideal, drop shipping would remove the necessity of storing and managing inventory and making regular post office runs when you would rather spend time with your family.
If You Would Like to Know More About ebay 'Click Here'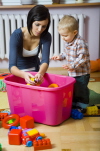 Child Care – Moms at home would be ideal for the child care field. If there's a need in your community, some options would be setting up a home-based day care centre or even an after school program for older kids. Depending on where you live, you might need special certifications or licenses, but you would have the added perk of having other children around for your own to play with and socialize with.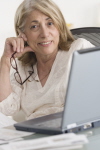 Graphic or Web Design – Most design tasks can be run as an online-only business, meaning you wouldn't always have to run out to a client's location for meetings. As long as you regularly answer your email throughout the day, you can concentrate your actual design tasks during quiet times when the kids are otherwise occupied, or even handle the design production during the evenings.



Tutoring or Lessons – Having students come to your home for tutoring sessions with their schoolwork, or even music lessons, can be easily adapted to fit your family's typical schedule, such as your child's nap time, or on weekends when someone else might be around to look after your kids.

Arts and Crafts – If you have any artistic ability, an arts or crafts-related business can be ideal for a home occupation. You can design jewellery, paint, make candles, or just about any craft you can think of. There is definite potential as you can work on your craft during quiet times or in the evenings, and sell your crafts or art at shows on the weekends. Or, you can sell your products anytime with an online store that will work for you 24-7.
e-Consulting – Similarly to how you can do design work almost entirely online, you can do the same for various forms of consulting if you have the proper training. For instance, you can consult on Web content, do marketing or SEO consulting for website owners, or adapt any kind of expertise into your very own e-consulting firm. Research – Individuals and companies in just about every field have a need for someone to conduct research for them. You can do anything from genealogy research to market research by conducting surveys right from the Web.
Selling Information – Information is still a hot commodity, and these days almost anyone can set up a website. If you create a basic site, you can sell anything from ebooks to podcasts to databases of industry contacts or job listings. The possibilities are endless.

Return from Work at Home Mums to Wealth

Return to Open-Mind-Publishing Home Page