Go Karts - Exciting At Any Age!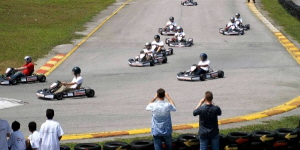 Are you ready to discover a thrilling activity? Racing or off road go karts could be the ultimate in excitement!



The thrill of skidding sharply around a blind corner is an experience that is hard to surpass. Racing down the track manoeuvring around curves and slower drivers, is fun at its best. Pressing down hard on the accelerator as you pass by slower drivers is about as adrenaline-pumping as it gets. And with go karting for every level, anyone can experience the fun and heart-pounding excitement of this sport.

If you have ever watched an Indy Car or Formula One race at the track or on TV you know how exciting it can be. But imagine climbing into one of those off road or racing machines yourself. Starting out slow, taking out to the track, the anticipation is almost unbearable. But then, once on the track, you press the accelerator to the floor, feeling an immediate thrust forward, and your adrenaline pumping just as fast. What a thrill, this sport cannot be beaten for fun and excitement.


You can experience the thrill of Formula One racing without the danger. At least with the beginner models. And you can find those just about anywhere, at family amusement parks, fun centres and other recreational areas where you live. And if you are really serious, it is a good way to get started toward a career in professional racing. Once you master driving of these machines it is time to take the next step into the arena of professional racing if this is your aim. But if not just enjoy the fun and thrills of the sport.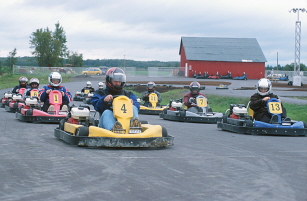 From total beginners to professional go kart racing. From the least experienced drivers to ones that are training to become professional drivers. You can choose your own competition.

No need to get involved over your head. The main objective is to have fun. And once you get into your own machine, no matter what level you are competing in, the fun just never ends.
Once you get addicted to there is no limit as to what you can do. You can purchase a brand new machine ready for racing, or you can buy inexpensive kits and build your own. Installing rack and pinion steering to changing tires will become easy over time. Or how about the installation of a brand new engine designed for improving the speed? Maybe you will be after a brand new frame that will be the envy of all around you.
Speed is where the excitement comes in. And some machines can reach speeds up to 90 MPH or more. So if you've ever thought about getting involved with this sport it is never too late and you are never too old. Go out and experience the thrill of this sport now.


Return to Go Karting

Return from Go Karts to Open-Mind-Publishing Home Page