Go Karting - How to Buy One Without Paying Over the Odds

Go Karting can make your heart pump like almost nothing else. If you're hooked on the thrill and you are dying to purchase a sleek new machine there are a few things you need to learn. With a little patience they can be bought for as much as 50% off of the regular retail price. They are incredibly fun, and they've become extremely popular these days.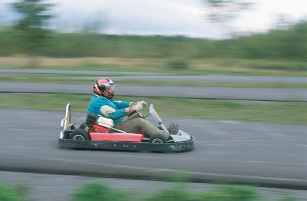 Racing these machines is just plain fun. But you already know how exciting they are so let's get to the nuts and bolts of how to purchase one at the best possible price.


Finding inexpensive models is a lot easier than you may think; you just have to wait a little longer before you buy. Price comparisons are certainly something you have already heard about, but if you do it right you can find some great discounts.

In the days prior to the internet you had to call up different stores or actually go to visit them to get some price comparisons for racing or off road go karts. But today we have the internet which makes it a whole lot easier. It still takes a little work and some patience, but the savings can be well worth the wait.


First, go to Google.com and type 'go karts', this will yield an unbelievable amount of online dealers. Check out about 10 or 20 of them and make a note of the different models and prices that they offer. Also, you'll notice on the right side of the Google search web pages there are many sponsored ads. Companies pay a lot of money to advertise there. Many of these sites have great prices and they should be checked out too.


Second, do the same thing Yahoo.com. Find a few sites that offer the types of go karts that you are searching for and make a note of the models and their prices. Once again, look at the sponsored ads on the page and visit some of them too. Keep track of the cheapest prices you can find.


Third, visit Froogle.com. Froogle is an offshoot of Google. It is a giant shopping site where you can find lots of different models. Search just as you did at Google and Yahoo, making sure to write down the cheap discount prices you find for the models you are most interested in.


Fourth, go to ebay and do another similar search. Look at the different auctions and notice the prices that go karts are actually selling for. This is one of the best ways to determine a selling price. You may have to keep track of a few auctions for a few days, but it will give you a good idea of the value for different models.


All you're doing is spending a little time locating all of the best prices you can find online. Then you're keeping track of these prices so that you can compare them. Now here's the hard part. Wait a week or two and then do it all over again. I know that waiting is hard, but if you try to avoid an impulse buy you can usually find lower prices. After a couple of weeks you will have determined which dealers offer the best prices.


Saving up to 50% on the price of a great machine is worth waiting a couple of weeks for. Once you've done your homework you just might be rewarded with a bargain. And once the work is over, it's fun time.


Return to Go Karting

Return from Go Karting to Open-Mind-Publishing Home Page