The World's Best Chocolate Comes From….........Belgium?

Belgium the worlds best chocolate maker.
Chocolate is one of the favourite pleasures of both young and old. There are so many varieties out there. You can find practically any kind of chocolate to satisfy even the most finicky among us. Ask anyone where the best chocolate in the world come from and you'll get a variety of opinions, but most will agree that Belgian chocolate is among, if not the, best.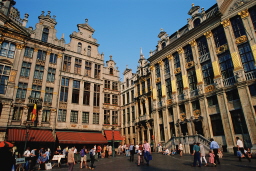 Belgian chocolate, as we know it today, evolved during the 19th century, but chocolate itself had been present in Belgium for roughly three centuries.

Today, there are many major brands of Belgian chocolate including Guylian, Côte d'Or and the exquisite Godiva chocolates. Leonidas which is considered to be one of the major brands of Belgian chocolate, has a vast following worldwide.

This can be attributed to the quality of Belgian chocolate, but also the variety available. Unlike many other types, which stick to popular combinations of caramel, raisins and a few classes of nuts, Belgian chocolate displays practically every edible combination possible. Just go to the online catalogue of any big brand. You'll see sections for truffles, nuts, fruits, white chocolate and a host of other categories. If you can't find something you like, then you don't really love chocolate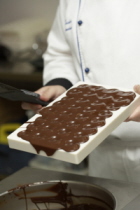 The 'melt-in-your-mouth' consistency of Belgian chocolate has made it a favourite for use in chocolate fountains. This is the latest craze at parties, weddings and many other social events.

Chocolate fountains are essentially devices for heating chocolate, which is then transported vertically before flowing over tiers for a waterfall effect. Belgian chocolate is usually high in cocoa butter, giving it the naturally wonderful consistency that is recommended for chocolate fountains.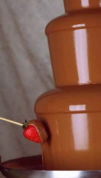 Chocolate fountains are also a lot easier to obtain than a traditional wedding cake. There's no need to pay someone tons of money for an intricate design and you don't have to worry about anything falling apart on the big day.

A growing number of catering companies offer chocolate fountains as an alternative and they're usually a big hit with guests, who can unleash their inner child by dipping strawberries, marshmallows and anything else you give them, in the cascading Belgianchocolate.


Return from belgium the worlds best to Chocolate
Return to Open-Mind-Publishing Home Page