Want to Feel Better, Less Stressed then Relax with Open Mind
Be Calm,Disolve Stress,Take a Break,Take it Easy and Relax. Sit back put on a pair of earphones or turn on your speakers and listen to the music. Just listen and you will begin to feel easy, dreamy and refreshed.
Any time you feel stressed,under pressure,wound up listen to the soothing music.



This music is so soothing we do recomend that you don't listen while driving or while operating machinery.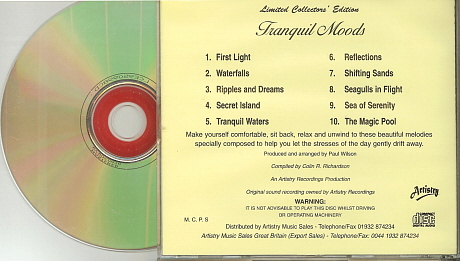 Open-Mind-Publishing are offering this unique album at the very special low price of $7.97 including postage and packing, but hurry while stocks last.
This offer is unique to Open-Mind-Publishing.com and can only be obtained through this web site.
Delivery will be within a few days depending on your country of residence. Should you have any problems you can e-mail us at support@open-mind-publishing.com
You can listen here to the first track to help you make up your mind. Just click the Play Button.
To purchase this Limited Collectors Edition click Here.
Enjoy and chill out. Relax ,with, openmind Return to Home Page